About us
Who we are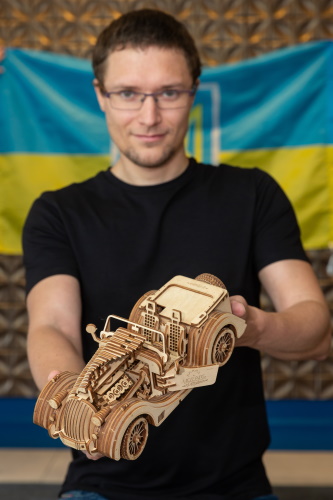 Are you looking for a unique gift for your child/spouse/colleague? Trying to find something eco-friendly that will surprise, entertain, challenge and mesmerise for years to come?
3D puzzles and mechanical construction kits from UGEARS will provide heaps of fun and help you make lasting memories!
Our products will solve your problems!
We are an Irish company based in Galway. We can guarantee fast and reliable delivery anywhere in the Republic of Ireland. Please check our Truspilot reviews out for comments from our local customers.
An excellent present for both children and adults our high quality 3D models are made of plywood sourced from sustainable forests. We offer a wide range of models that vary in complexity and assembly time. They require no adhesives or tools and are easily pressed out of the packaging. Our kits look so impressive it might seem they are beyond the ability of kids/ beginner model builders, but there is no need to worry, as our super-precise instructions will allow anyone to create an engineering masterpiece. After the assembly the completed model can be used as a toy, an ornament, an interior decor piece or even storage for your little treasures (e.g a box or a safe).
Ugears History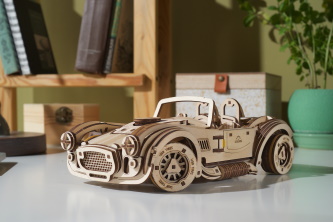 Photo: Ugears Models
UGEARS began as a startup established in 2014 in Kiev, Ukraine. In less than two years the company have taken more than a dozen of top notch designs and brought them to life in the form of model kits made from sustainably sourced wood, delighting people throughout Europe.
In 2015, backers funded the wildly successful Kickstarter campaign at 20 times over the original goal. To us this says that even in our world of video games and virtual reality, people still get excited when they find creative and fulfilling ways to use their hands. Our business fuels this excitement as well as gives individuals and families the opportunity to come together through the joy of hands-on modeling.
Nowadays
Since 2014 UGEARS products have reached thousands of customers all around the world. Our beautiful 3D puzzles are very popular on 5 continents. We are happy to share our love of engineering with you through our construction kits and 3D puzzles which functionality is based on the principles of classical mechanics. No modelling fan will pass by. Each UGEARS model embodies the spirit and ideals of steampunk. Open design allows one to reveal the secrets of a unique mechanical device.
We at Vimster Limited are proud to be the official distributor of UGEARS in Ireland.
Although our kits are not produced locally, we believe they are very Irish in spirit! Through our models we learn a lot about and explore Irish culture and history and we are honoured to share this knowledge with people from all over the world.
We support and value local community and love participating in local art and craft events, including Glass Factory, Tiny Traders and Galway International Food and Craft Festival.