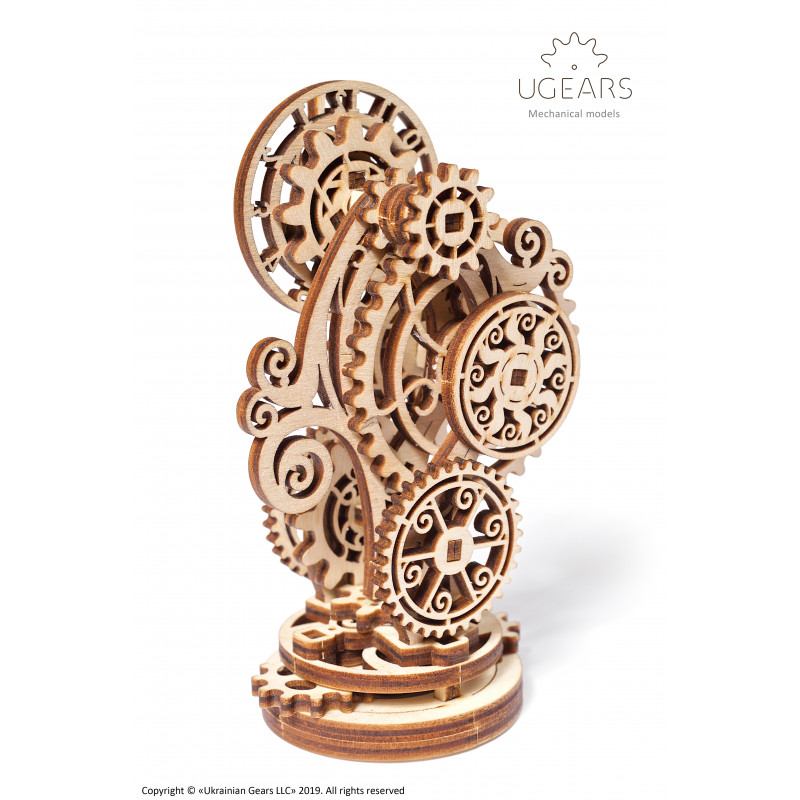  
Steampunk Clock - Mechanical 3D Puzzle
Model Size: 2.1 * 3.1*4.9 in (5.3 * 7.8 * 12.5 cm)
Package size: 3.5*10.8*0.4 in (9 * 27.5 * 0.9 cm)
Number of components: 43
Estimated time for assembly: 1 hour
Did you know that Thomas Dillon who began the first commercial sales in Galway of now famous Claddagh Ring came from a family of clock and watch makers? A grandfather clock made by the Dillons during the Victorian era is still keeping time in the sacristy of the Roman Catholic church in Tramore County Waterford.
The very essence of Steampunk, the 3D puzzle "Steampunk Clock" from Ugears has arrived to remind you of the true spirit of this unique style combining art, science, and mind blowing mechanics.
This model is a miniature imitation of a clock with a delicate carved body and a clever mechanism that sets its gears into motion and gets the hands of the clock moving. Beautiful lace-like ornaments of the Steampunk Clock include floral designs, the Sun, stars, and the Moon.
Mesmerising gearing of the model includes an original 90-degree angle coupling you can observe when the mechanism is functioning. Along with a smart gears connection, Ugears engineers implemented another interesting feature: the unsynchronized clock hands sitting on the same axle. Each of them moves with its own pace. The Steampunk Clock is easy to assemble which makes it a great model to start with if you are new to the fascinating world of Ugears. And even if you are an experienced Ugears fan you will definitely want to add this remarkable puzzle for your collection.
The model is made of natural eco-friendly materials and has a nice wooden scent. Everything you need to assemble your Steampunk Clock comes in the box, no glue or additional tools are required.
If you want to spark somebody's curiosity and introduce them to the fascinating world of mechanics, there is no better way to do it than to invite them to assemble the breathtaking Steampunk Clock from Ugears.
Data sheet
Number Of Parts

43

August Sale - 2023

15%