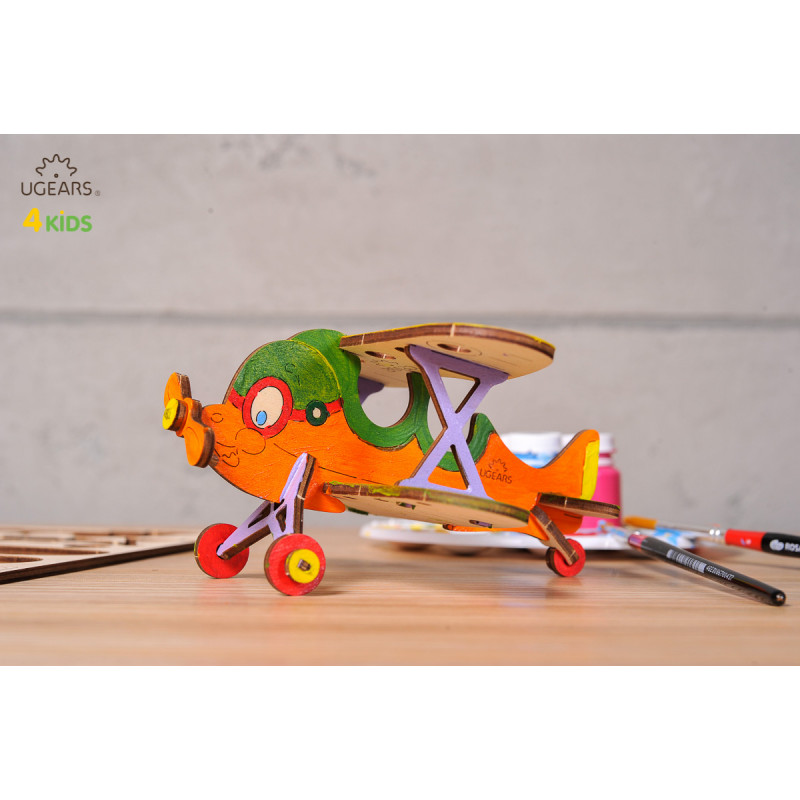  
Biplane - Colouring 3D Puzzle
Estimated time of assembly : 1 hour
Size of the model after assembly: 6.2*6.8*3.4 IN (15.8*17.3*8.7 CM)
Package Size: 9.3*7.1*0.2 IN (23.5*18*0.5 CM)
Number of components parts: 23
Estimated time for a painting: 4 hours +
Manufacturer recommended age: 5 + Years
Have you ever heard a song by The Irish Rovers called "The Biplane Evermore"? If not, - have a listen, as it perfectly sums up the essence of Ugears colouring model Biplane.
For children from 5 to a 100 years old
Use whatever art materials you like to colour this beautiful model: crayons, markers, watercolour, acrylic paint etc.
Suitable for an independent art project, but also excellent as a friends/family pastime, Ugears biplane's fuselage, wings, and propeller have delicate contour lines on wooden parts to make painting easy.
The biplane is functional: it is a perfect office organiser, as it can hold six pens/pencils/brushes, markers etc. Thus, six holes are provided in the upper wing of the model.
Like a real two-seater biplane of the first decade of the 20th century, the model has two wings, one above the other that are fixed on separate console racks. The prototypes of the model were widely used in civil and military aviation and also in agriculture. The upper part of the fuselage contains the captain's /passenger cabin. The aircraft is equipped with a front double-bladed propeller, front chassis with a tail wheel with shock absorbers for take-off, landing and taxiing. The Vertical keel with a small horizontal wing-stabilizer completes the main wing of the plane.
The model contains mechanical features: twist the propeller behind the blades to watch all three wheels move.
"Set your sights up in the skies" with Biplane from Ugears.
Assembles easily and is good fun to play with.
Develops engineering skills, spatial thinking and fine motor skills.
Captures imagination for a long time.
Eco-friendly: is made of high quality wood, has a fragrant scent of wood and is pleasant to touch.
All parts are already cut off and can be easily removed from the board.
Put together like a puzzle without glue or special tools by following an illustrated color manual.
Create a unique masterpiece with UGEARS colouring models.
Let your inner artist meet your inner engineer.
Data sheet
Height

1580 mm

Width

1730 mm

Depth

870 mm