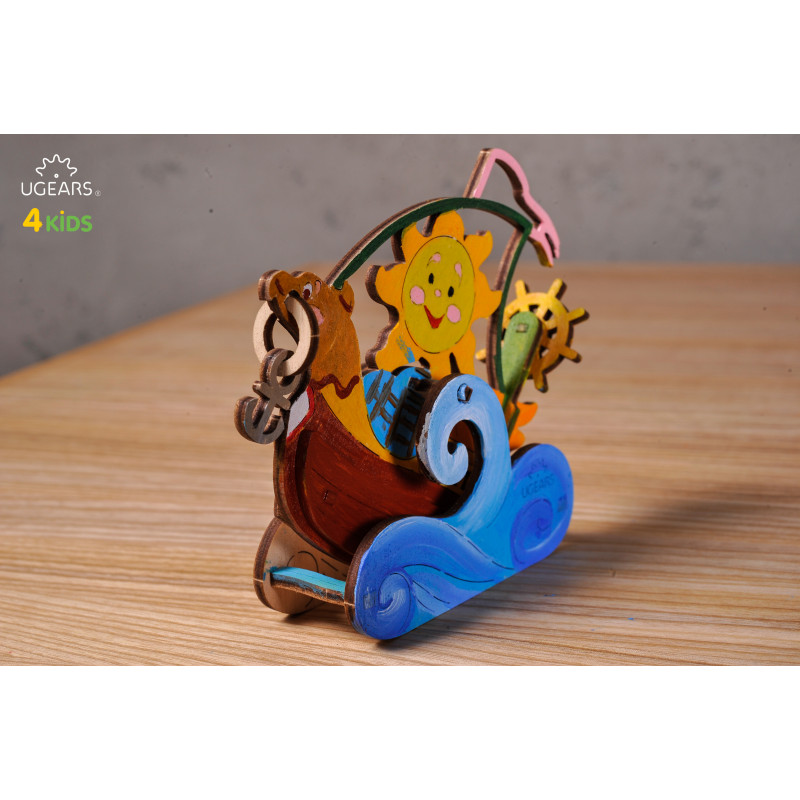  
Sailboat - Colouring 3D Puzzle
Model Size: 120*38*130 mm (4.7*1.5*5.1 inch)
Package Size: 165*180*5 mm (6.5*7.1*0.2 inch)
Number of components parts: 17
Estimated time of assembly: 45 minutes
Estimated time for a painting: 3 hours +
3D-puzzle colouring model Sailboat
For children from 5 to a 100 years old
Use whatever art materials you like to colour this beautiful model: crayons, markers, watercolour, acrylic paint etc.
Suitable for an independent art project, but also excellent as a friends/family pastime, the parts of Ugears Sailboat: the hull, the dragoon's head with an anchor, the mast with a pennant, the sails with the sun, and the steering wheel have delicate contour lines on wooden parts to make painting easy.
The 3D model takes one back into the end of the 9th century when first Viking ships reaches the emerald island, leaving a lasting mark on Irish culture and economy.
Assembles easily and is good fun to play with.
Develops engineering skills, spatial thinking and fine motor skills.
The model contains elements of mechanics: its possible to turn the steering wheel or rock the boat on the waves.
Captures imagination for a long time.
Eco-friendly: is made of high quality wood, has a fragrant scent of wood and is pleasant to touch.
All parts are already cut off and can be easily removed from the board.
Put together like a puzzle without glue or special tools by following an illustrated color manual.
Sail away from the safe harbour, catch the trade winds in your sails, explore, dream and discover with our Ugears 3d-puzzle colouring model Sailboat
Create a unique masterpiece with UGEARS colouring models.
Let your inner artist meet your inner engineer.
Data sheet
Height

120 mm

Width

130 mm

Depth

38 mm