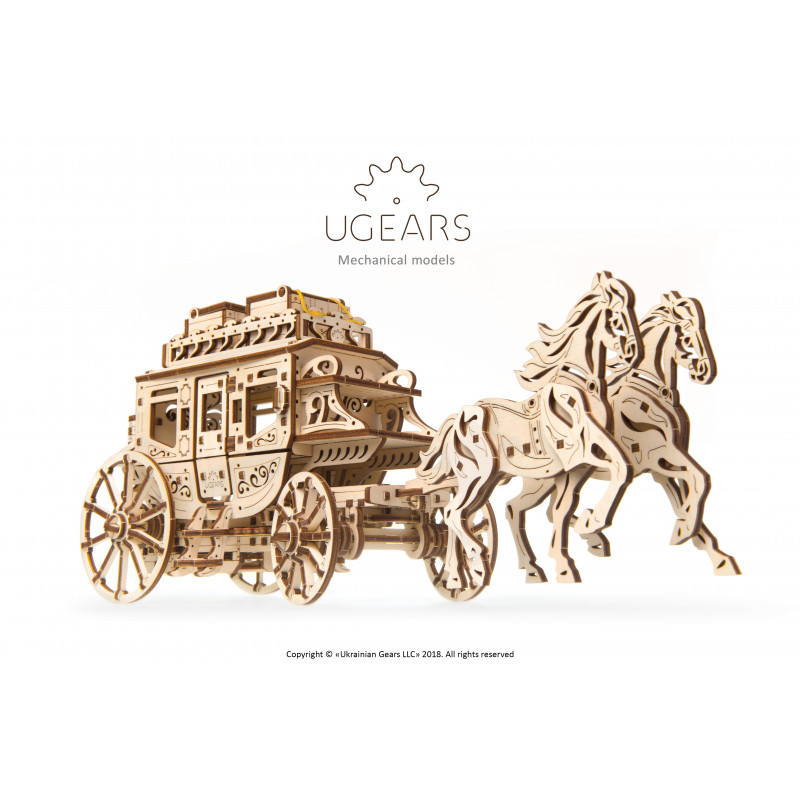  
Wooden Stagecoach - Mechanical 3D Puzzle
Feel the free wind of the frontier in your hair, take your family on a thrilling journey to the Wild West with the Stagecoach model by Ugears.
Ugears introduces the legendary carrier from the late 18th – 19th century, when the stagecoach became a signature attribute of the Wild West culture - a common means of communication as well as passenger and small cargo transportation in the US.
Model Size: 15,7 * 4,9 * 6,3 in (40 * 12,5 * 16 cm)
Package size: 14,6 * 6.7 * 1.1 in (37 * 17 * 2,7 cm)
Number of components: 248
Estimated time of assembly: 5 hours
Material: Eco-friendly plywood
The Stagecoach has a solid frame and wheels pretty enough to play with, and a delicate cabin that gives the model an iconic Ugears look. The doors of the cabin open to let the passengers in and out. If you'd like to deliver a message to your family or sweets for your kid - 2 cargo crates on the roof of the cabin will conveniently accommodate your letters and parcels. The crates can be removed and replaced with whatever small package you need delivered. 
Make just few turns of the winding key and your Stagecoach will get going away as fast as it can. Lock the rear wheel axle to make sure the model is not running away from you while you are winding it.
The Stagecoach is an unique model. It can be handsome addition to your house due the beautiful detail on the side of the cabin, delicate carving combined with curious mechanical elements.
--------------------------
The model has everything you might need for assembly.
The quality of the details is very high – the parts of the model are outlined with a CNC laser cutter on a plywood board. The first thing you will notice when open the box is a pleasant smell of real wood.
The details have to be pulled out of the boards and assembled to create a complete model. Made out of high quality plywood, without glue or any additional appliance, your eco-friendly puzzle will bring hours of joy to the whole family and will make you closer than ever. Just follow the detailed step-by-step illustrated manual with instructions in 10 languages to complete your 3d puzzle.
Do not forget about educational value of Ugears constructor provided by the great mechanics based on the real-life designs. 
Data sheet
Number Of Parts

248